YX-CHMJ-200/2 Automatic Box-drawing Face Tissue Machine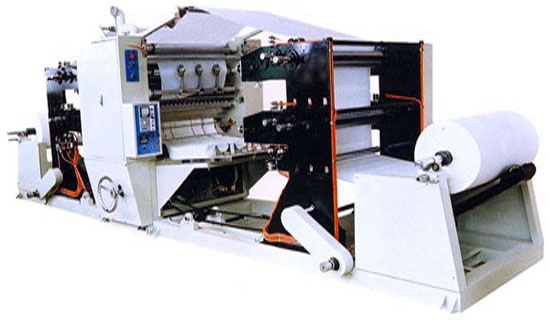 Brief Introduction of Equipment:
Folding of products: V type. The paper in upper and lower positiions are crossing and joining.
Finished products are output in 2 fines with automatic counting and stacked out in stagger form. It is convenient to pack the box.
Stepless regulates unwinding, whole machine is working synchronously, suitable to produce high or low grade paper.
During production, tension on paper can be controlled at random to facilitate high-speed operation.
Main Technical Parameter:
Production Speed: 60 ~ 100 m/min (linear velocity of unwinding)
Specification of Jumbo Roll: roll width × roll diameter: 420 × l000 mm Weigt: 13 ~ 20 g/m2 (two ply)
Machine power: 7.7kw ( 380v 50hz)
Gas: 0.6 Mpa 0.17m3/min
Overall Size or Equipment (L×W×Hm): 4.1 × 1.3 × 2.3
Open size of products: 200mm(L) × 140 ~ 210mm(W, adjustable)
Folded size of products: 100mm(L) × 140 ~ 210mm(W, adjustable)
Weight of Equipment: 3.0 t
According TO The Request of Customers:
It can be equipped with embossing figure on paper.
It can be equipped with 1 ~ 4 colors offset printing pictures or trademarks on paper.
It can be changed to equip output unit in three or four lines.